Welcome to
My Death Flags Wiki!
My Death Flags Show No Sign of Ending, or Orefura (俺フラ lit. My Flag) is an award-winning isekai novel written by Izumi-sensei. It has a manga adaptation of the same name that started serializing on June 2020.
When he came to his senses, Kazuki Hirasawa, a normal university student, found himself in possession of the body of a game's character. Moreover, it was Harold Stokes, the story's most hated character who was even given the title 『King of Trash』by the players. Myriads of landmines are just waiting for him to step on them, like death flags! Will Harold be able to clear the survival route while avoiding the countless death flags in his way?!
Manga Releases
Light Novel Releases

We're a collaborative community website about My Death Flags Show No Sign of Ending that anyone, including you, can build and expand. Wikis like this one depend on readers getting involved and adding content. Click the "ADD NEW PAGE" or "EDIT" button at the top of any page to get started!
Latest Releases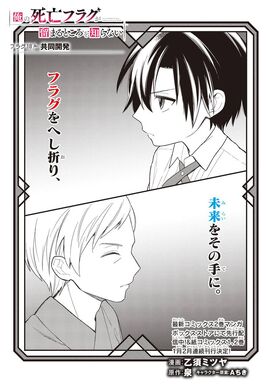 Novel: Chapter 117
Manga Trailer
 	 	   

Mangaka
Author
Artist